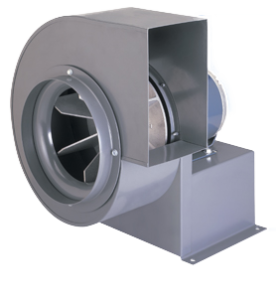 Peerless Blowers Low Pressure Radial KE direct drive blower is generally used on small kitchen hoods where grease filters may or may not be installed. They are also used where air contains dirt, lint or foreign material, as the wheel is a self-cleaning type. The KE direct drive blowers are available in 5 sizes ranging from a 7-3/4 to a 13-1/2 " wheel. The CFM range is 93 to 3393 with up to 2-1/4″ static pressure. The fans have cast aluminum radial blade wheels.
The KE direct drive fans are designed with a heavy-duty housing and base. All fans are available in either clockwise or counterclockwise rotation and the housings are rotatable up to 8 different positions.
All of the fans are available with either single or three phase motors in a variety of enclosures. All direct drive radial blade fans are tested in accordance with AMCA codes and standards.