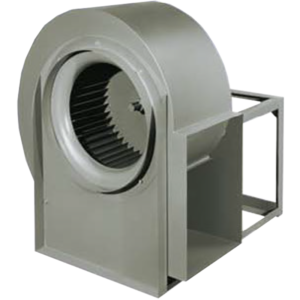 The Peerless Blowers Forward Curved Belt (FCB) blower is a high quality, low cost, heavily constructed and completely self-contained unit.
The low speed characteristic of the forward curve wheel design makes for an extremely quiet and efficient operating unit. These blowers are designed for use in high volume low and medium pressure, clean air, ventilating and exhaust applications. Wheel sizes range from 8 through 24-1/2″. The horsepower curve is always maximum at free air delivery and the maximum efficiency is near the peak static pressure.
This self contained unit is designed for ease of access to the motor, drives and bearings. As a result, installation and maintenance costs are minimal for the user. All units are equipped with a convertible discharge which may be rotated easily to any of the eight positions.