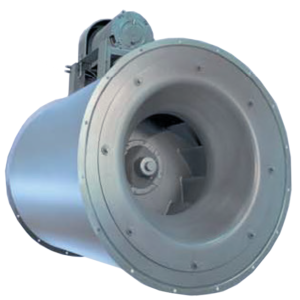 The Peerless Blowers Centrifan inline centrifugal blower represents a quality-built, reliable product design providing superior service and performance for our customers. Incorporating the tried and proven, highly efficient "Peerless" wheel in a vane-equipped tube (except on size C1050), the CentriFan thus offers the combination of superior performance comparable to scroll type centrifugal fans and minimum space requirements formerly associated only with axial fan types.
In addition to the obvious space saving advantages of the tubular design, the need for duct turns and transition pieces is eliminated, thus providing simpler and less costly installation. Inlet and outlet diameters are identical and floor, wall or ceiling installation for vertical or horizontal airflow can be made with equal ease.
Sixteen standard sizes with wheel diameter from 10-1/2″ through 49″ are available. AMCA Standards defining wheel diameters are observed throughout. Capacities range to 67,407 CFM and 8-1'2 static pressure.
The consolidation of the centrifugal wheel in the multiple conversion vane equipped tube on sizes C1220 and larger has produced a highly efficient, unusually quiet, compact unit having stable pressure and non-overloading horsepower characteristics.
Belt Drive Wheel Sizes: 10.5″ – 49″
CFM Range: 435-67,407
Static Pressure: Up to 8.5″WG