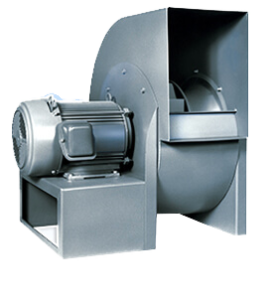 Peerless Blowers Backward Inclined Direct (D) blowers are available in 9 sizes ranging from a 10-1/2 to a 24-1/2″ wheel, in full and partial width. The CFM range is 314 to 18,600, with static pressures to 14″ wg. These fans are used in applications where direct drive is preferred.
The backward inclined fans are designed with a heavy-duty housing and base. The wheels are dynamically balanced and supplied with cast iron hubs. The fans are available with partial width wheels. All fans are available in either clockwise or counterclockwise rotation and the housings are rotatable up to 8 different positions.
All of the backward inclined fans are available with either single or three phase motors in a variety of enclosures. All backward inclined fans are tested in accordance with AMCA codes and standards.